SPOTIFY
Album of the day: Kiddo – Jessie Reyes
Spotlight song: SLOW DANCING IN THE DARK – Joji
How did I get to join these men on their research journey? Some background:
I studied at Montclair State University and double majored in Anthropology and Classics. What have I done with that since I graduated? I have made connections. I have done my own research at home and walked around asking a lot of questions hoping they lead me somewhere. I wanted to work for the Smithsonian Tropical Research Institute (STRI) for a while before either going to grad school or changing my mind entirely. It can still happen. So how did I end up in the middle of the Chagres jungle in Panama with two research biologists? I met some people at a bar.
I was waiting to pick my boyfriend up from the airport and went to a bar to grab a beer and pass the time. While there, I met two men, Caleb and Alvaro, that told me about their projects pertaining to research. We all got along and exchanged information. They then invited me to join them on a jungle expedition with two research biologists in hopes of making more of an impact.
We all want to be the change. Only some of us actually do something about it when opportunity knocks.
I woke up at 4:30am on November 30th and packed my things. I met Caleb and Alvaro in a parking lot at 5:30am and went to pick up Ricardo Moreno and Josué Ortega. Ricardo and Josué are researchers for the Yaguará Panamá foundation. Mr. Moreno is in jaguar research associated with the Smithsonian Tropical Research Institute and Mr. Ortega is in coyote research for the same institute. For this project, they worked together in order to place 6 cameras in Chagres to monitor jaguar population and migration. With this information, they hope to educate those that have negative connotations towards jaguars in the area.
I have the pleasure of sharing this experience with you.
The Approach and Unloading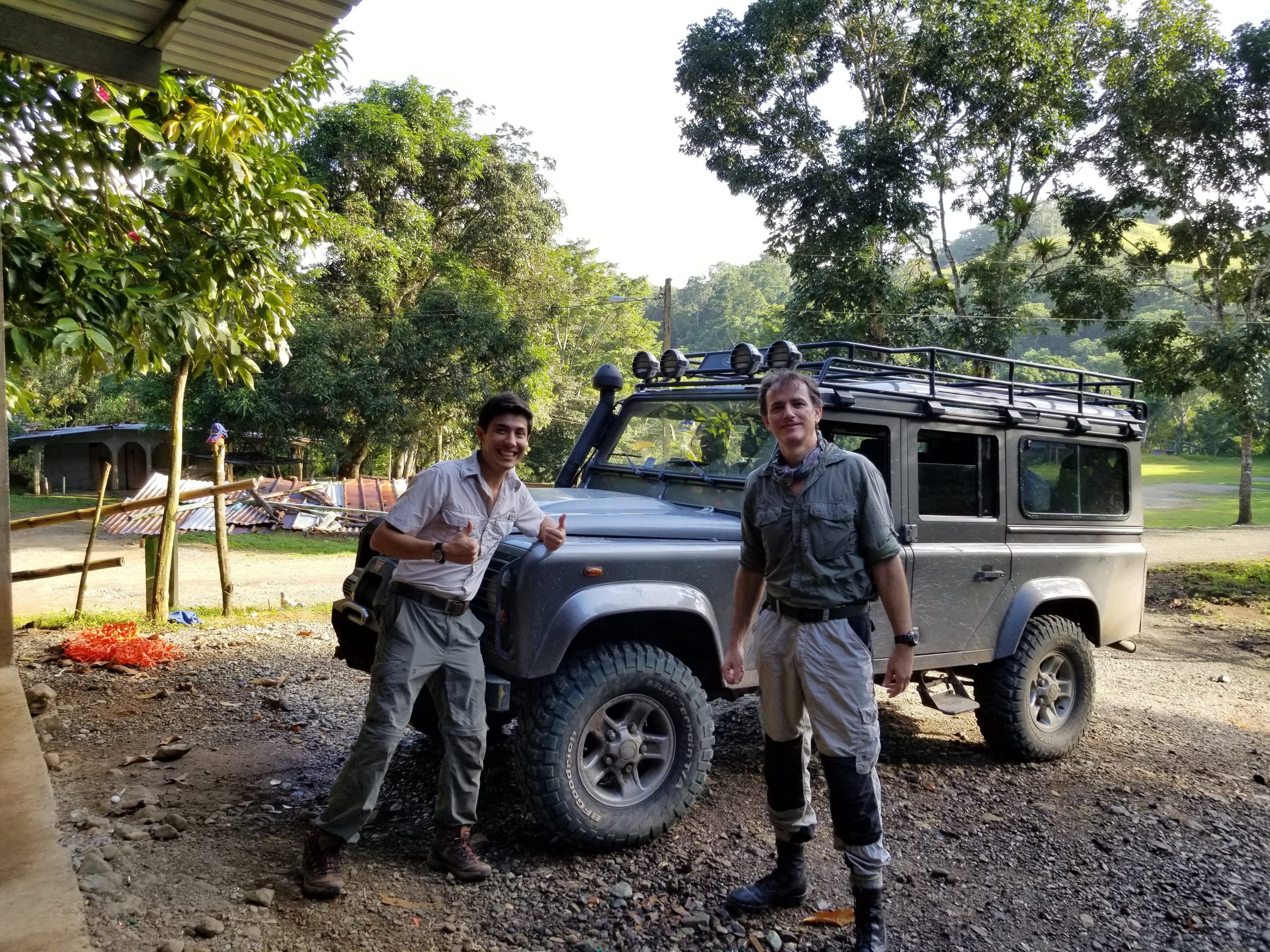 2 hours into the Chagres area and we stopped by a "watering hole" to pick up some rum and coffee for the trip. Pictured above are Josué (left) and Caleb (right). This beast of a vehicle got us through some dangerous terrain.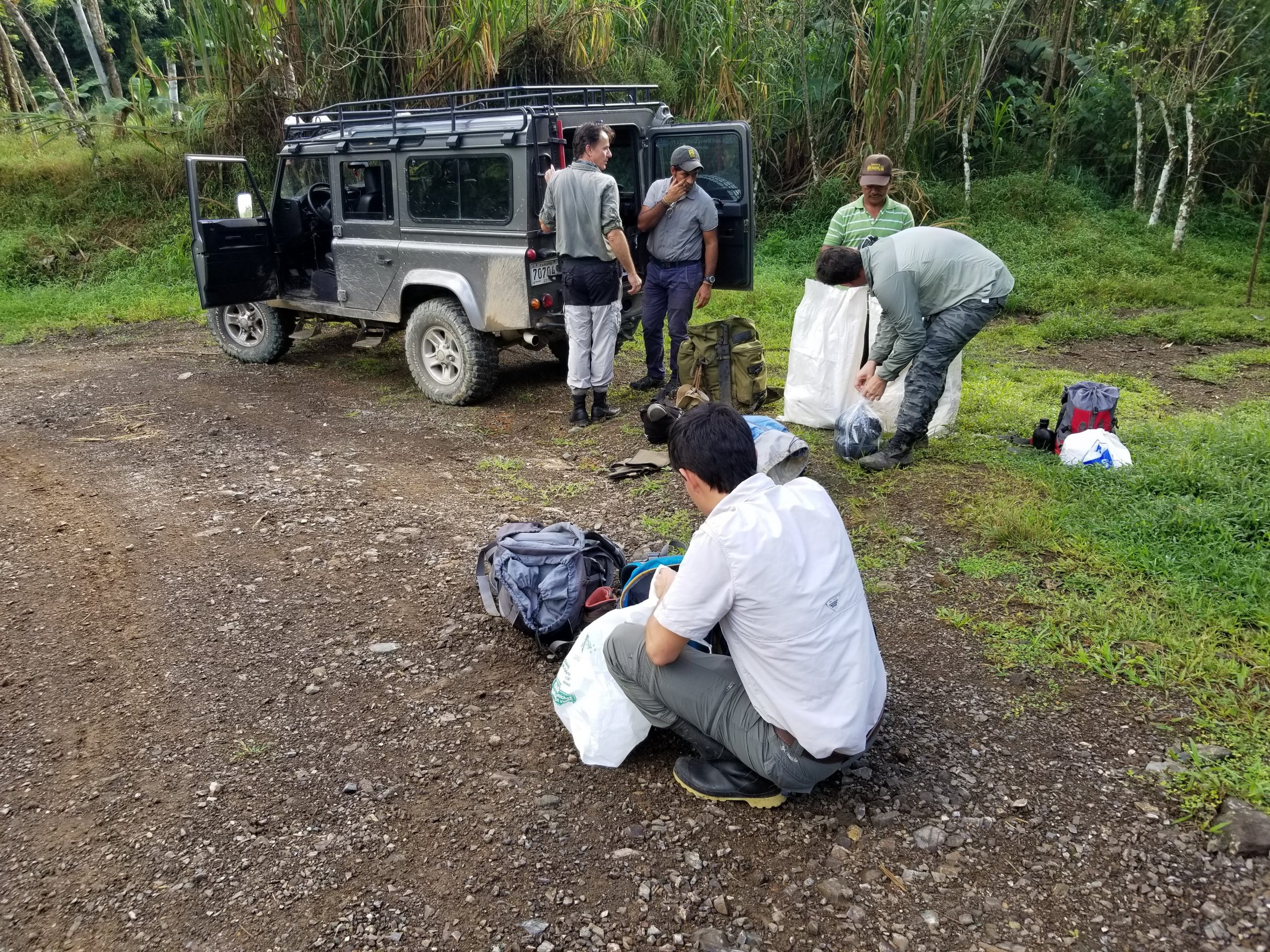 After the stop, we drove a bit further to unpack all of our unnecessary hiking items. These items included uncooked foods, pots, pans, extra clothes, camping gear, tarps, and cameras. Here, we met up with 2 locals that would pack all of that gear onto a large horse and walk with us through the jungle.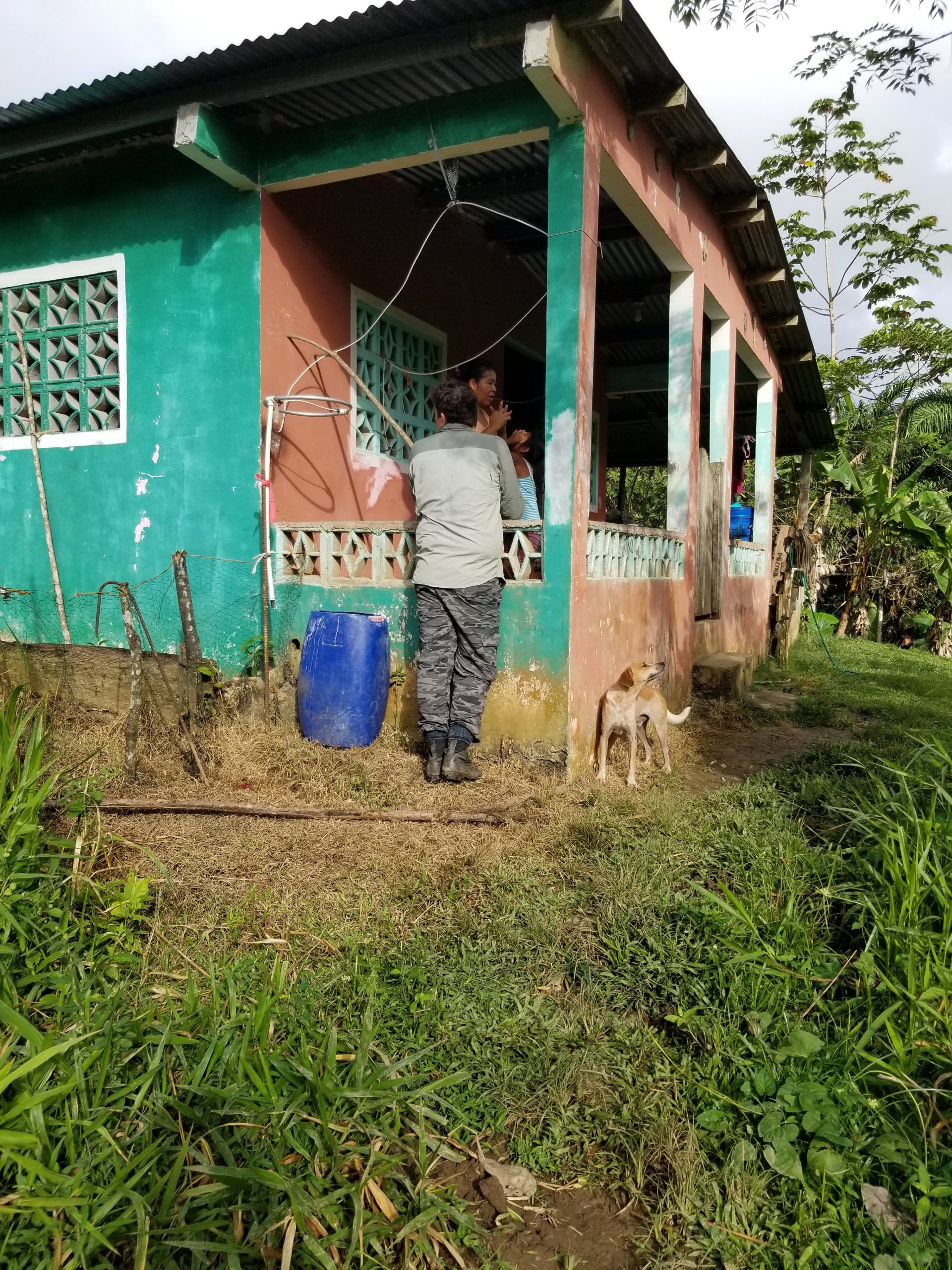 This house belongs to one of the men. Pictured is his wife and some children speaking to Alvaro. They have their jobs and do this on the side to help researchers through the untamed areas of Chagres. We NEED to go far off any hiking trail or known trail in order to capture the wildlife that hides from travelers.
The Hike
Unfortunately, the path we took was not one for tourists or adventurers. There is (currently) no solid path or direction that I can provide. The areas we frequented on this hike were paths that were made as we went and were recently only stumbled upon by hunters.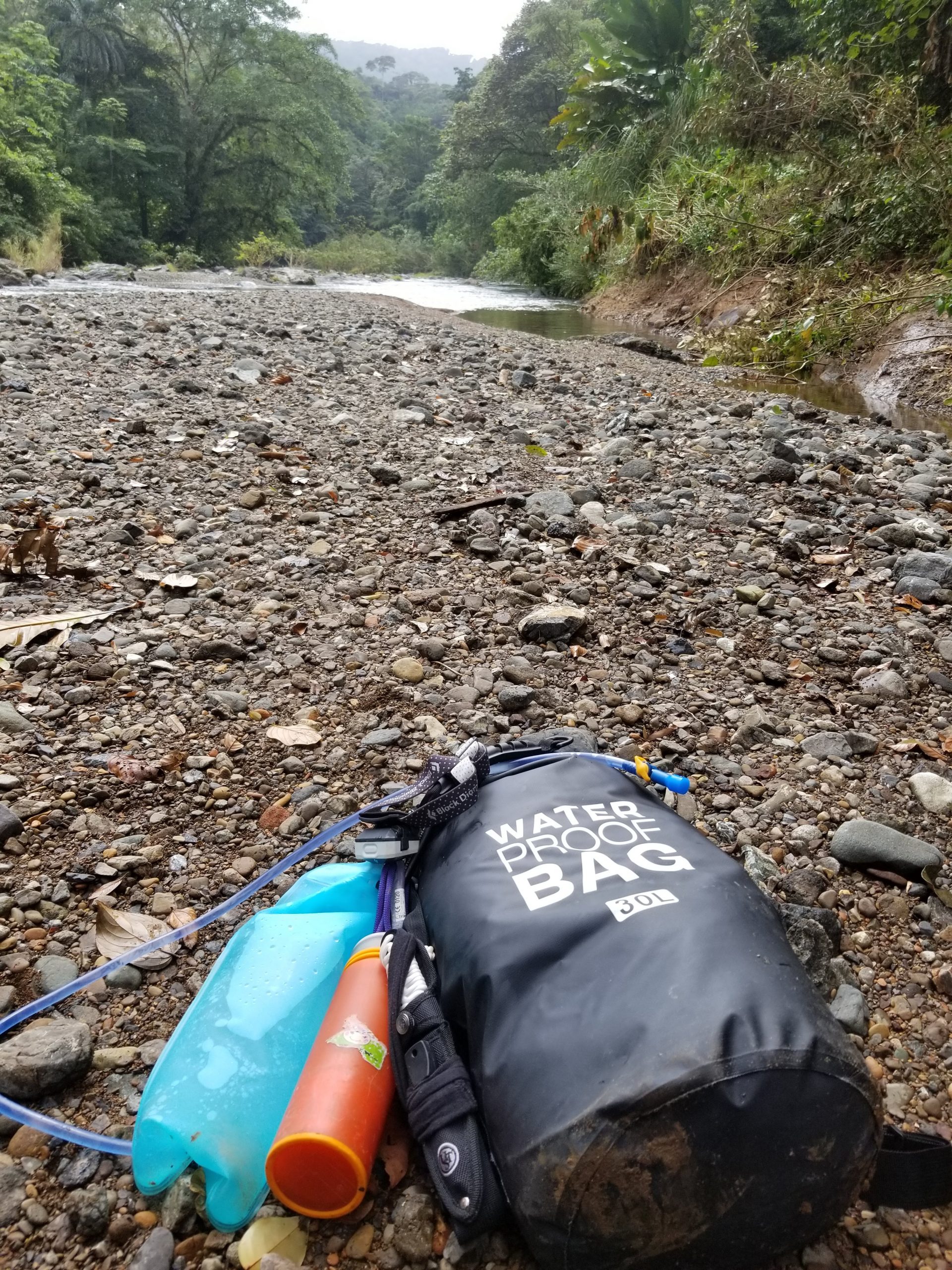 I would not have made it through the 20+ kilometer (12+ mile) hike without my Grayl filtration bottle and adventure water pouch. I would filter the river water (even though it was probably the cleanest water I have ever seen or tasted) and put it in the pouch. The waterproof bag was necessary since we ended up wading through large areas of waist-high water in order to reach our camp.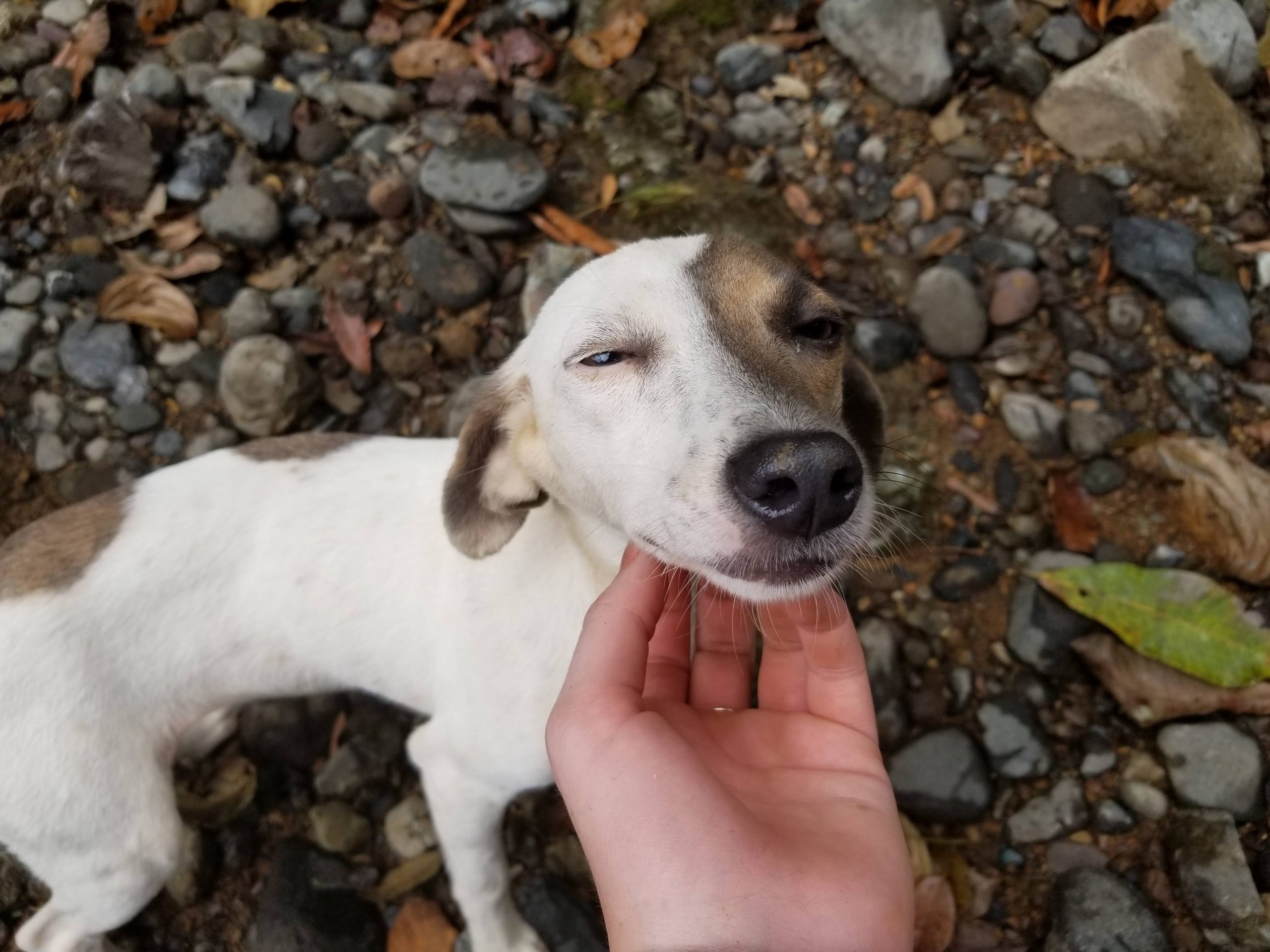 Halfway to the camp, there were puppies. Of course I needed to pet them all and take pictures of them. We had been hiking for approximately an hour and 40 minutes so we needed a snack break and some water.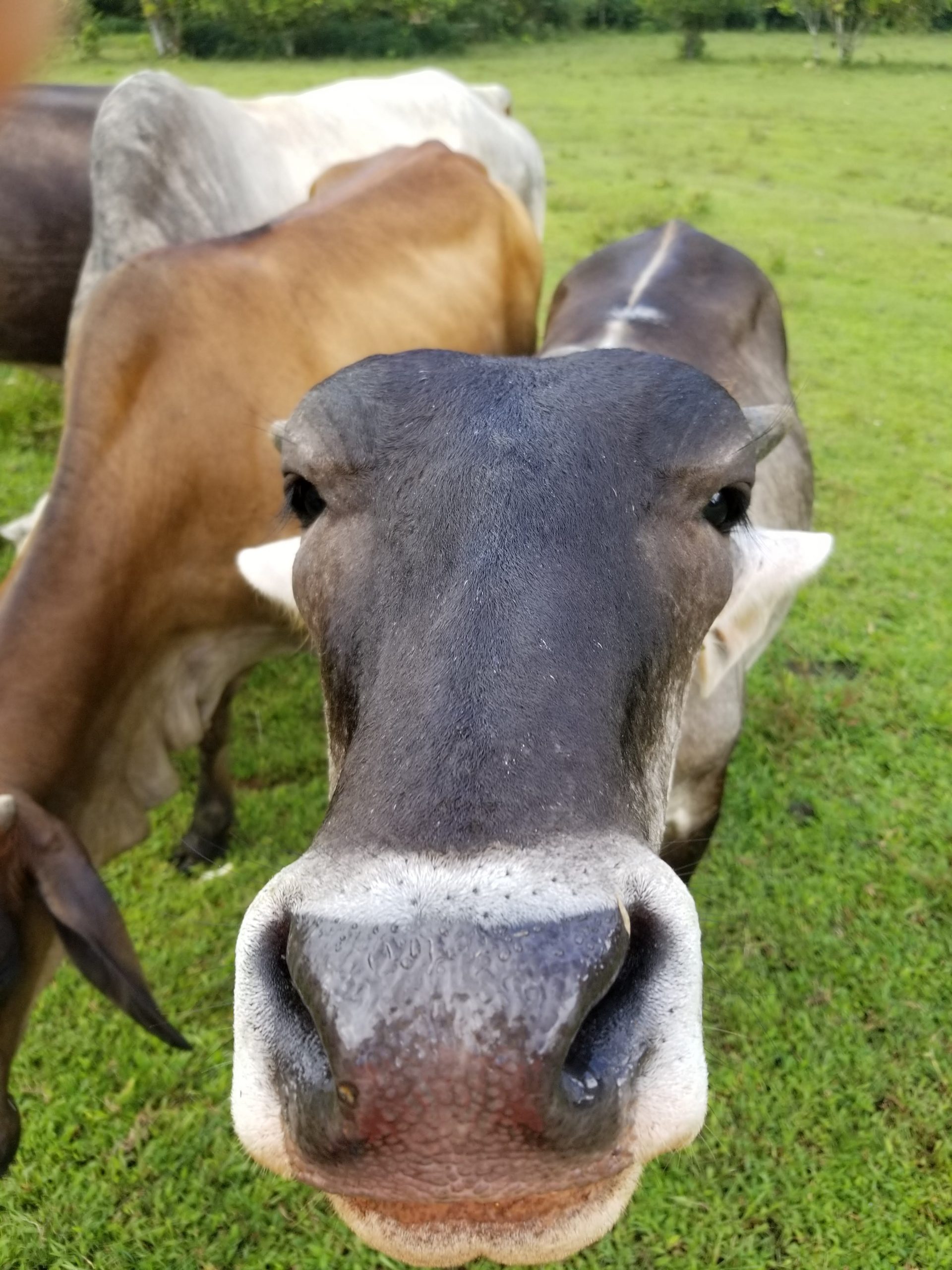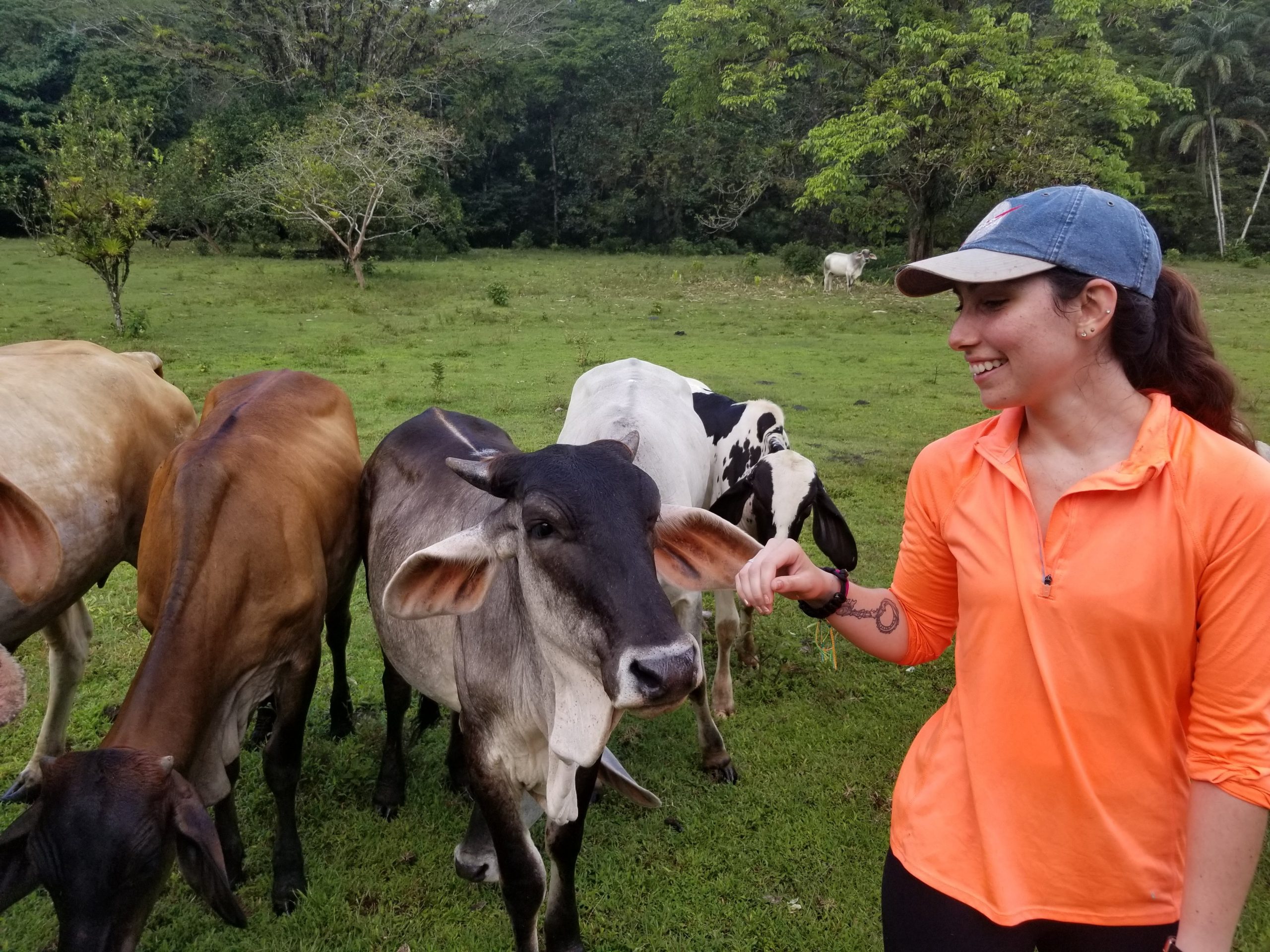 We needed to cut through a farm. Cows just happen to be my favorite animals. So (obviously), we needed a photo-op and some Japanese oranges from the area to feed them with. Probably the best moment of my time hiking those 20 kilometers to camp.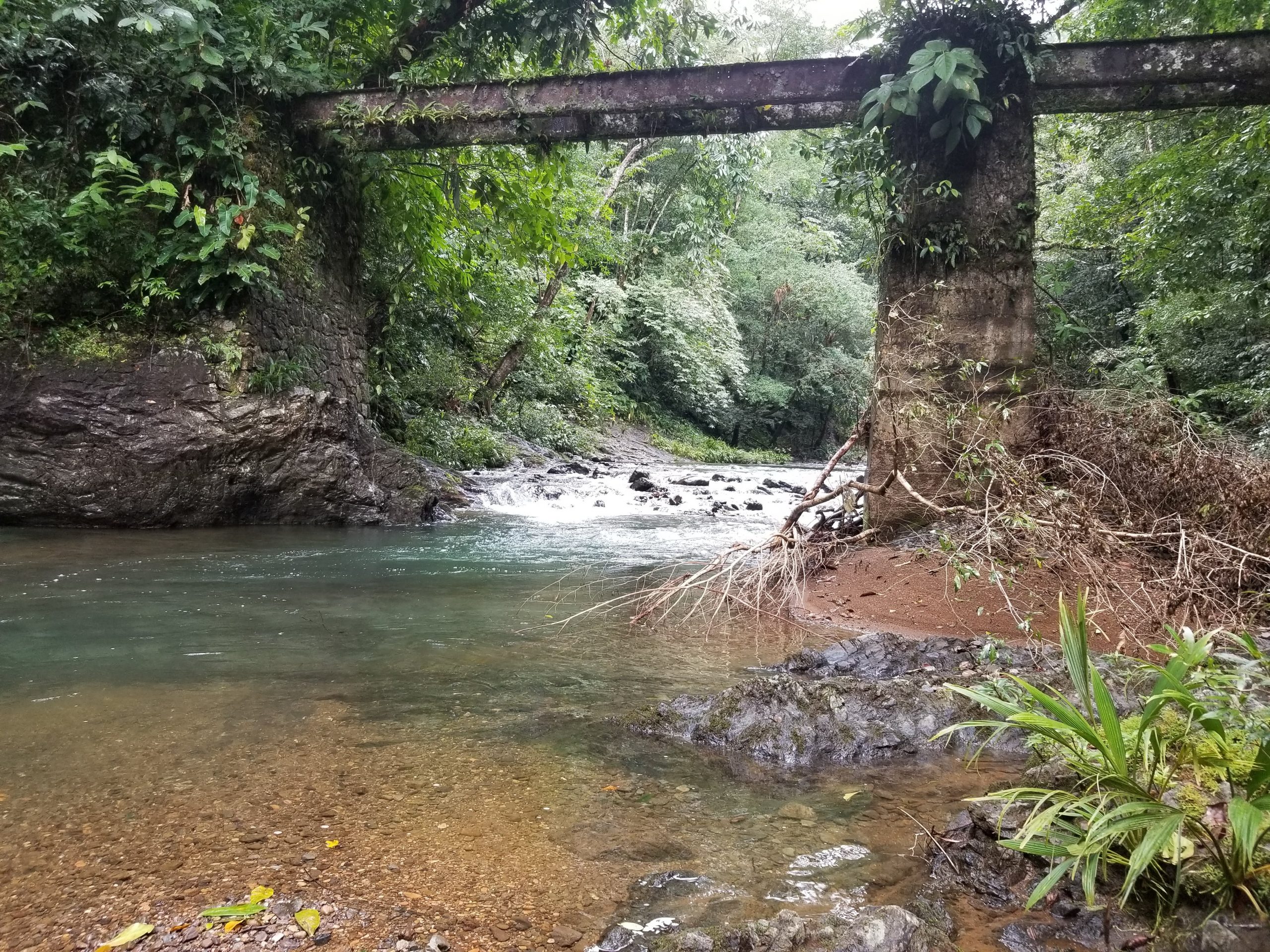 Puente Del Rey was a detour that we took to catch up on some cool history. The U.S. would mine for manganese and precious metals used for artillery in the mid-1800s- early 1900s in Chagres.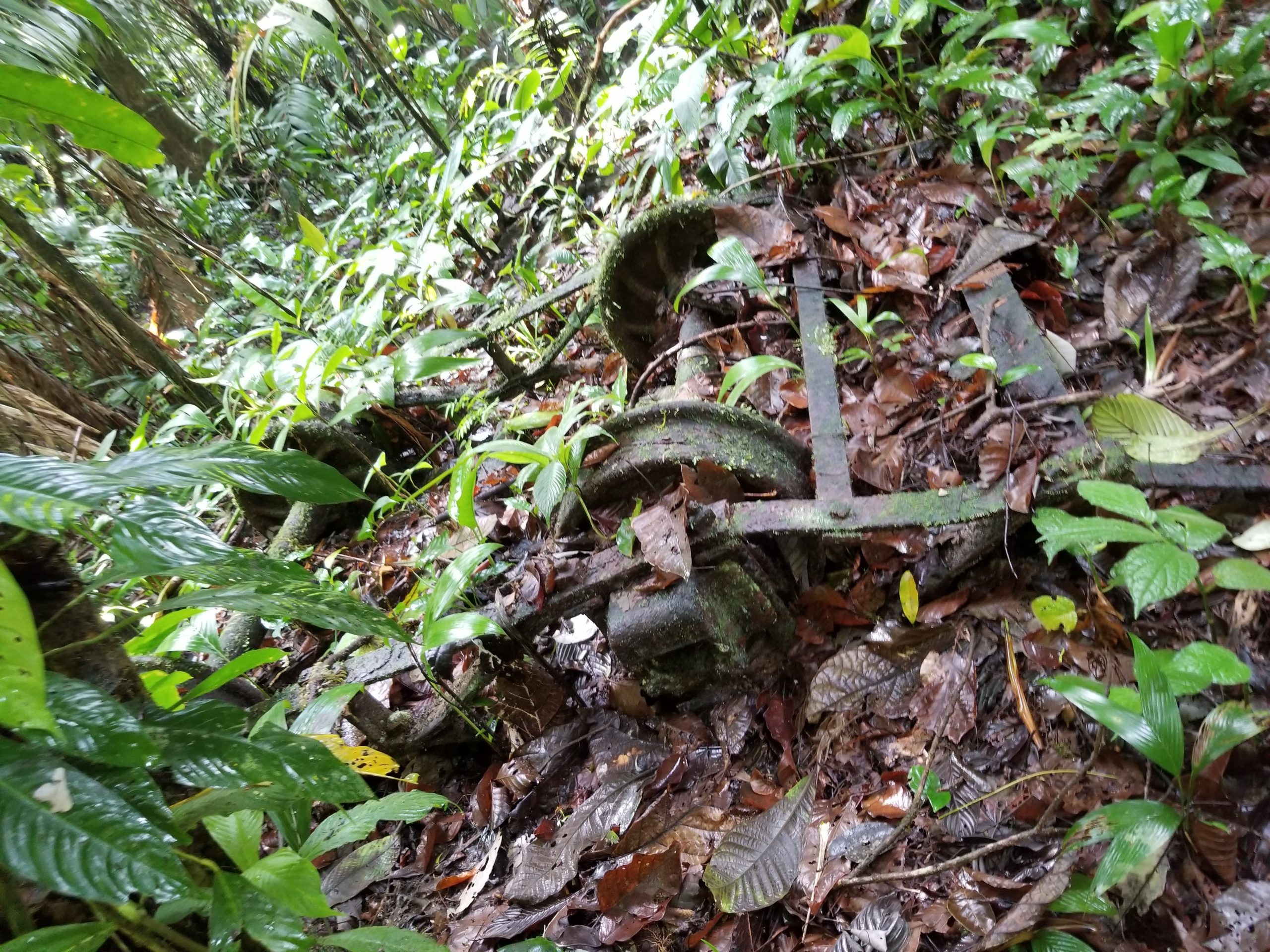 Above is an old mining wagon that had been taken over by nature.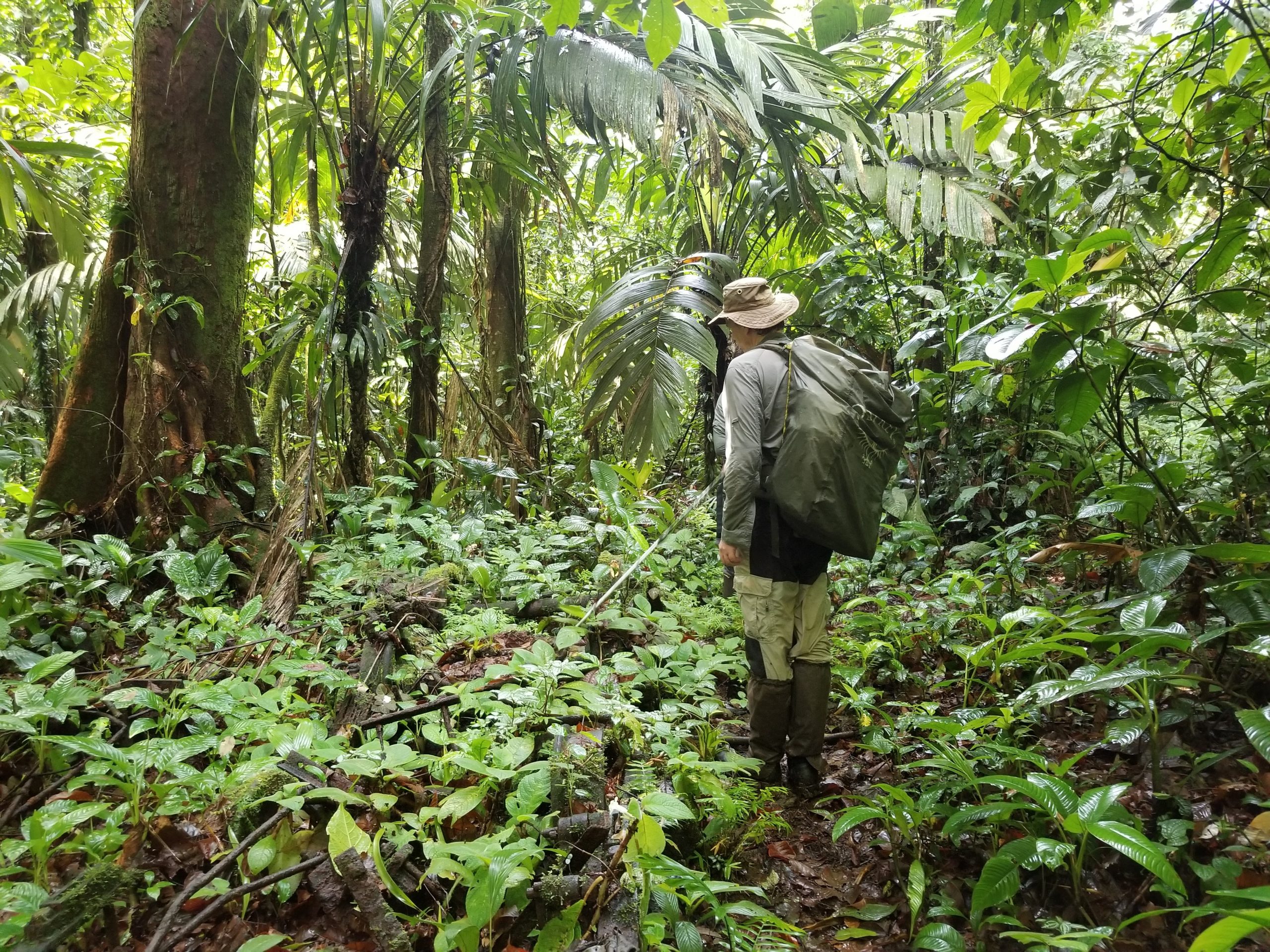 The locals, along with Ricardo and Caleb, would swish machetes and pave the way for us and the horse.
Not pictured are the howler monkeys, butterflies, and exotic birds that we encountered on our way. Josué, incredibly young and full of knowledge, eagerly explained their scientific names and important characteristics. All of the knowledge became absorbed into a newfound appreciation for animals that I, admittedly, did not pay much attention to before.
The mud was beyond frustrating and I've been to Voodoofest, but what challenged me most was the amount of dangerous wildlife we encountered. Snakes, spiders, poisonous plants, and eels. Everything wants to kill you, hurt you, poison you, or eat you. How exciting.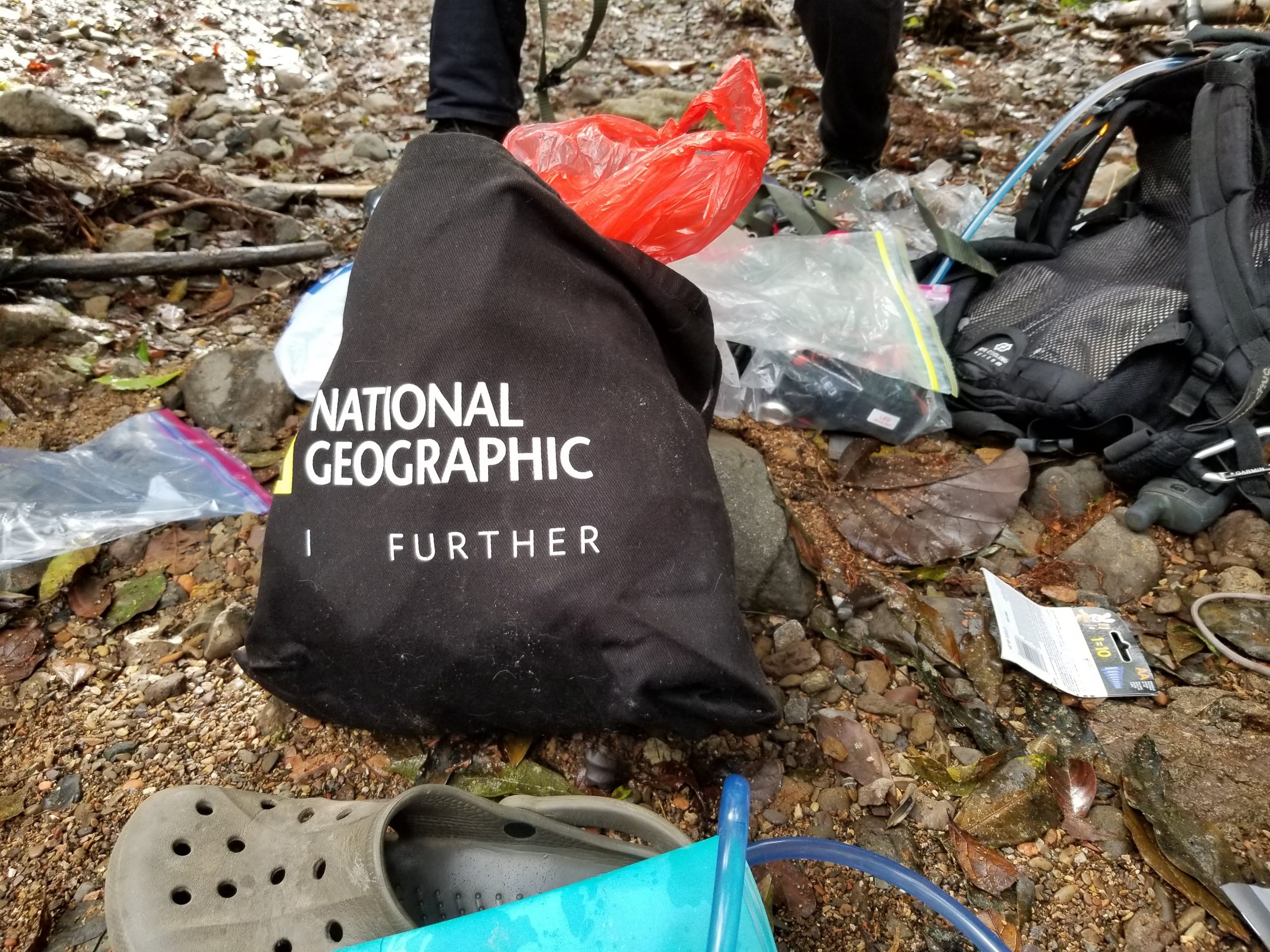 Ricardo Moreno is an upcoming explorer for National Geographic and seems to really appreciate them. One of the other men worked with the Discovery channel. I felt safer knowing that. 
The Preparation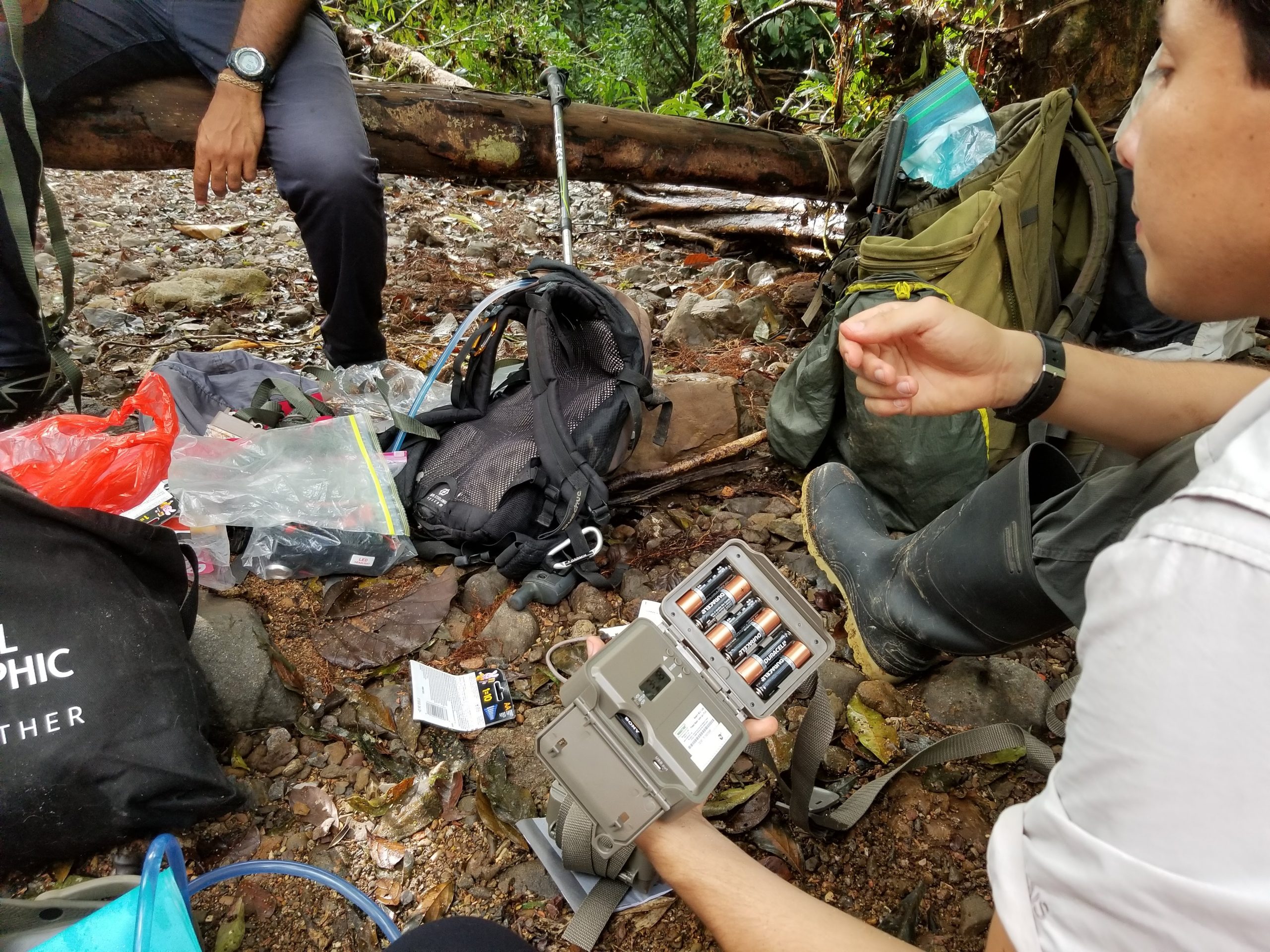 Here you see Josué showing me how the cameras are set up. He explained how much memory they hold, when they take pictures, how often, and their different forms. I was able to program one and felt pretty content with that mini accomplishment.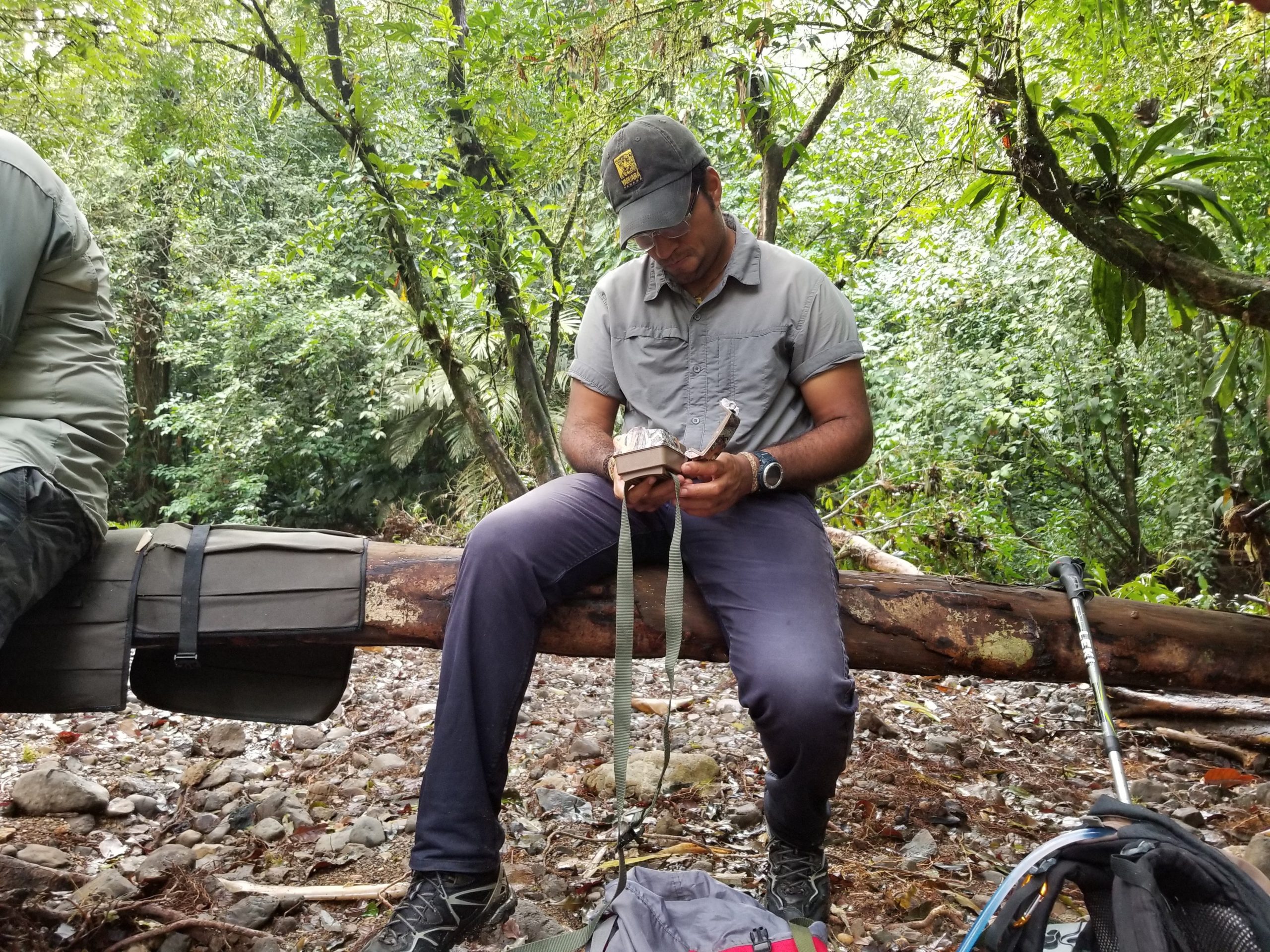 Ricardo Moreno pictured inspecting the cameras.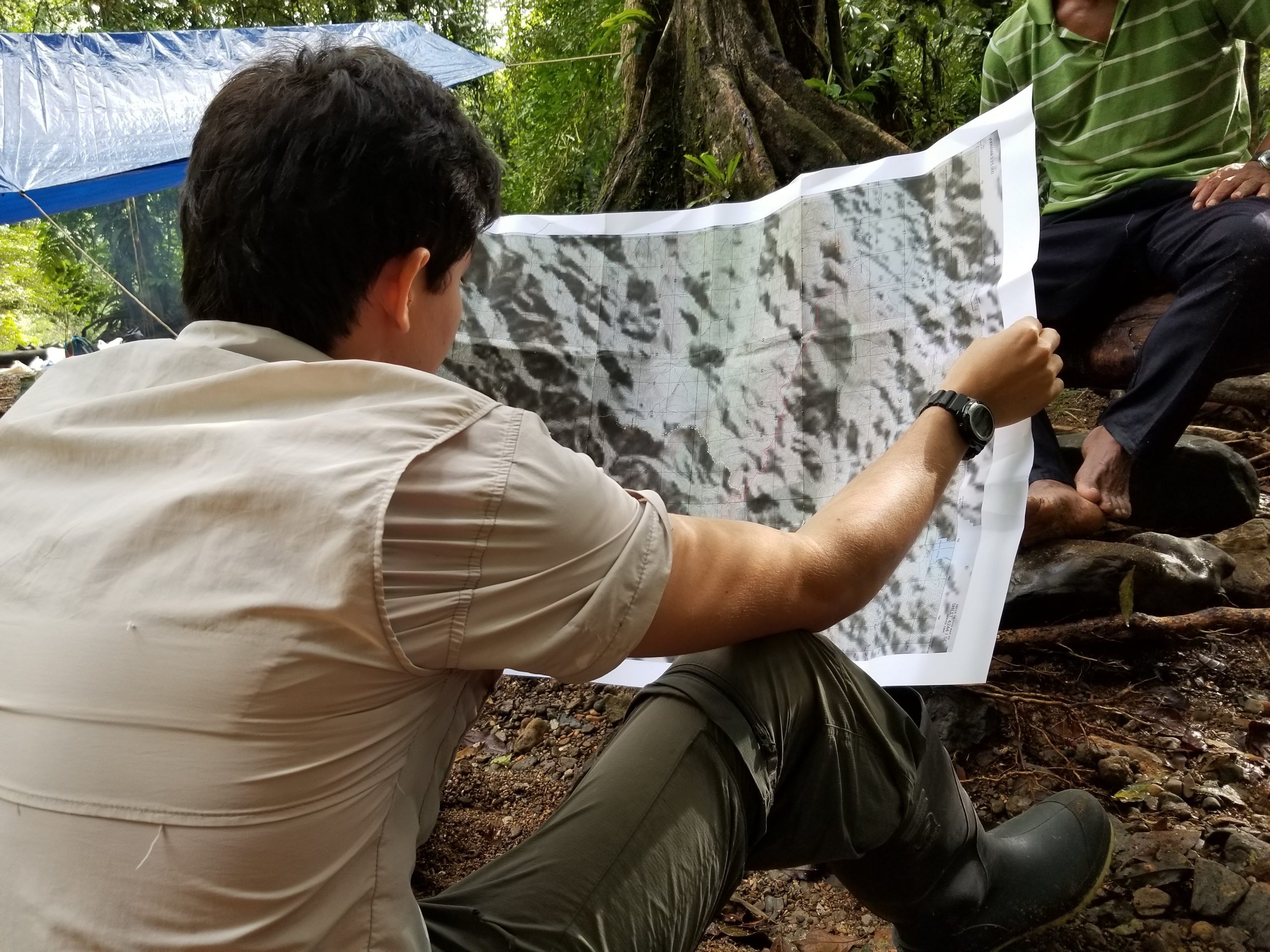 Josué reading the topographical map and analyzing how far apart the cameras would be placed. In doing this, he can determine patterns if they find distinct jaguars visiting the same areas or avoiding those areas.
First Placement
Here, you see Ricardo setting up cameras 1 & 2 about 30 minutes from camp. We hiked out some steep uphill and cut around in order to find an open space that looked like an animal crossing.
Below are two videos where the researchers explain what they are doing with the information and how they do it. Since it is in Spanish, I have translated them to English in the text below them.

"Hey, how are you all today? We're here placing trap cameras to see how the jaguar population is in this zone and where their main habitats are. Big thanks to Whitewater University in Madison [Wisconsin] for their support [providing the cameras]. It's excellent. Here we are with some cool people; community members. One of the most interesting things about this is that I'm sure that we are going to get really good information in a bit of time and we'll accomplish what we came for."

"… In general, we put [the cameras] slightly above the ground. Maybe 40-50 centimeters, give or take, of height. This allows us to get very focused photos of about 3 meters, maybe 3 and a half meters, of the animals that we hope get close enough to capture. So, we invest a lot of time placing these cameras carefully. That's how we get excellent photos. In 45 days, we will come back to retrieve the cameras and hopefully have those excellent photos of jaguars."
The Camp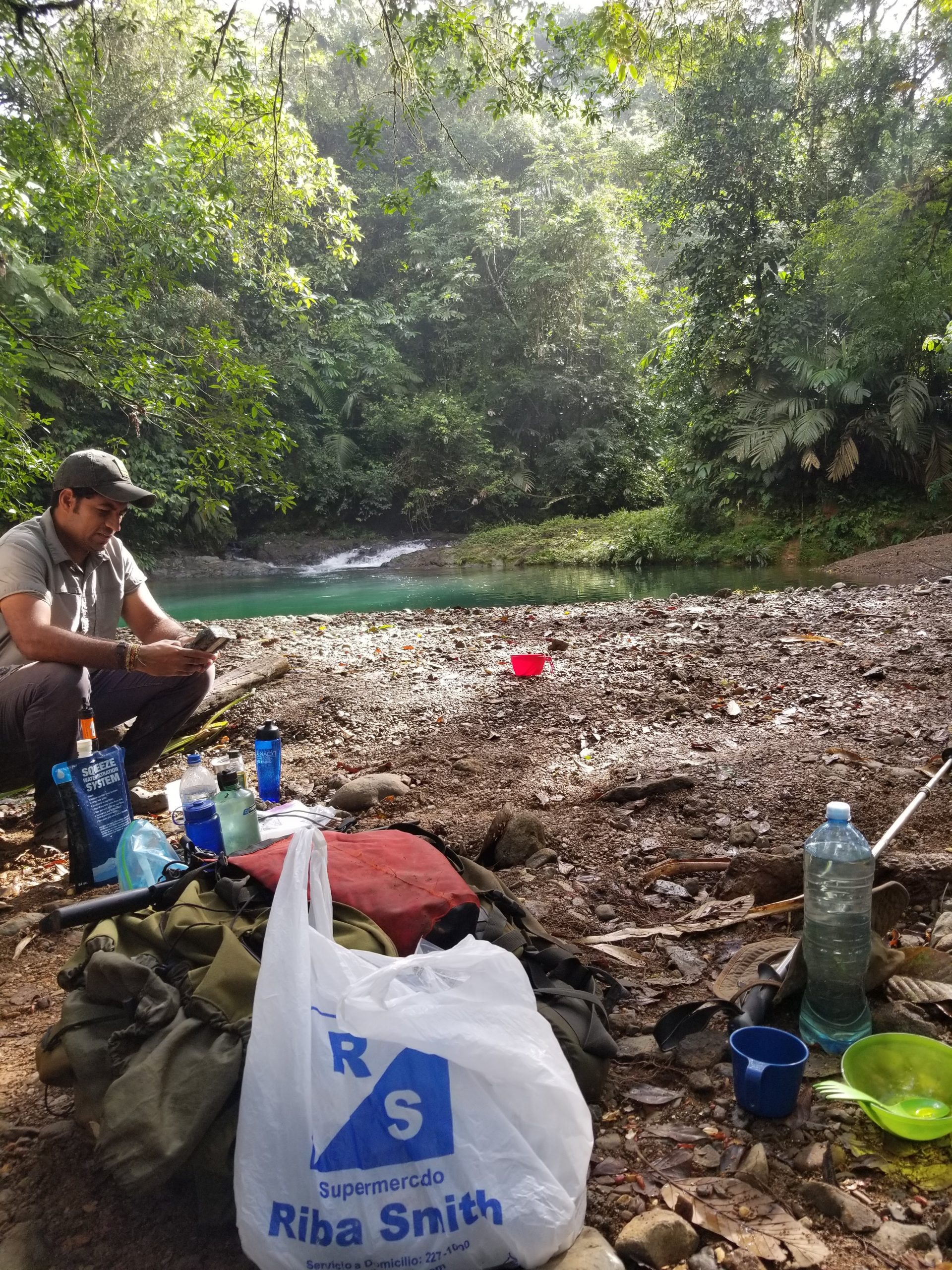 Our camp was right in the center of an island-like open space. We put up the tarp for our main area and then crossed the river to set up our netted hammocks and tarps. It was so serenely beautiful.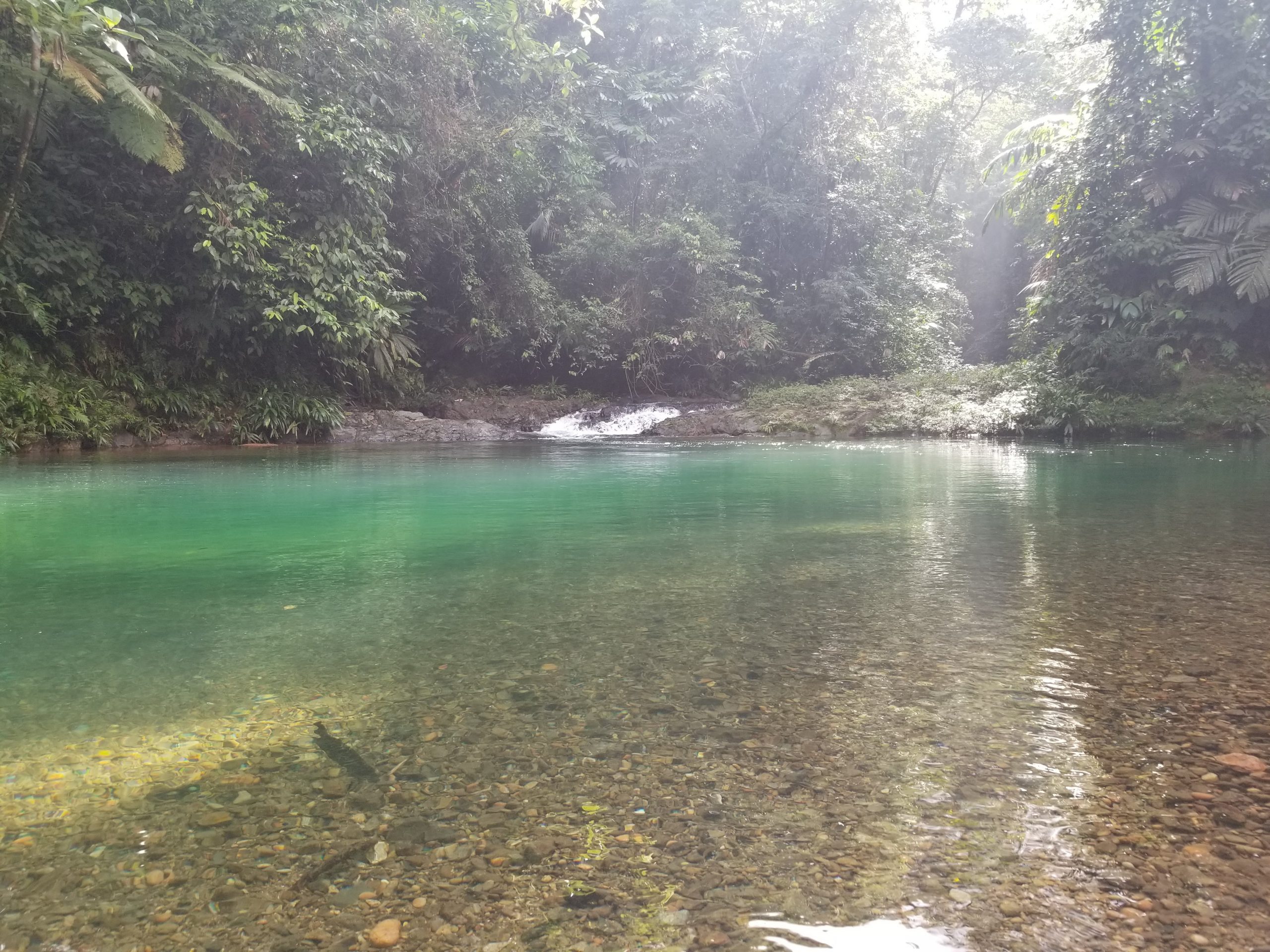 The incredibly clear water made it fun to examine some night wildlife that curiously followed us around. We swam across to the small waterfall and cooled off from the hike.
Later on that night, we sat around and ate dinner while looking at the spectacularly starry sky. We mixed some drinks, went star gazing, and then went to our respective hammocks early to wake up for the next adventure-filled day.
The Second Day Placement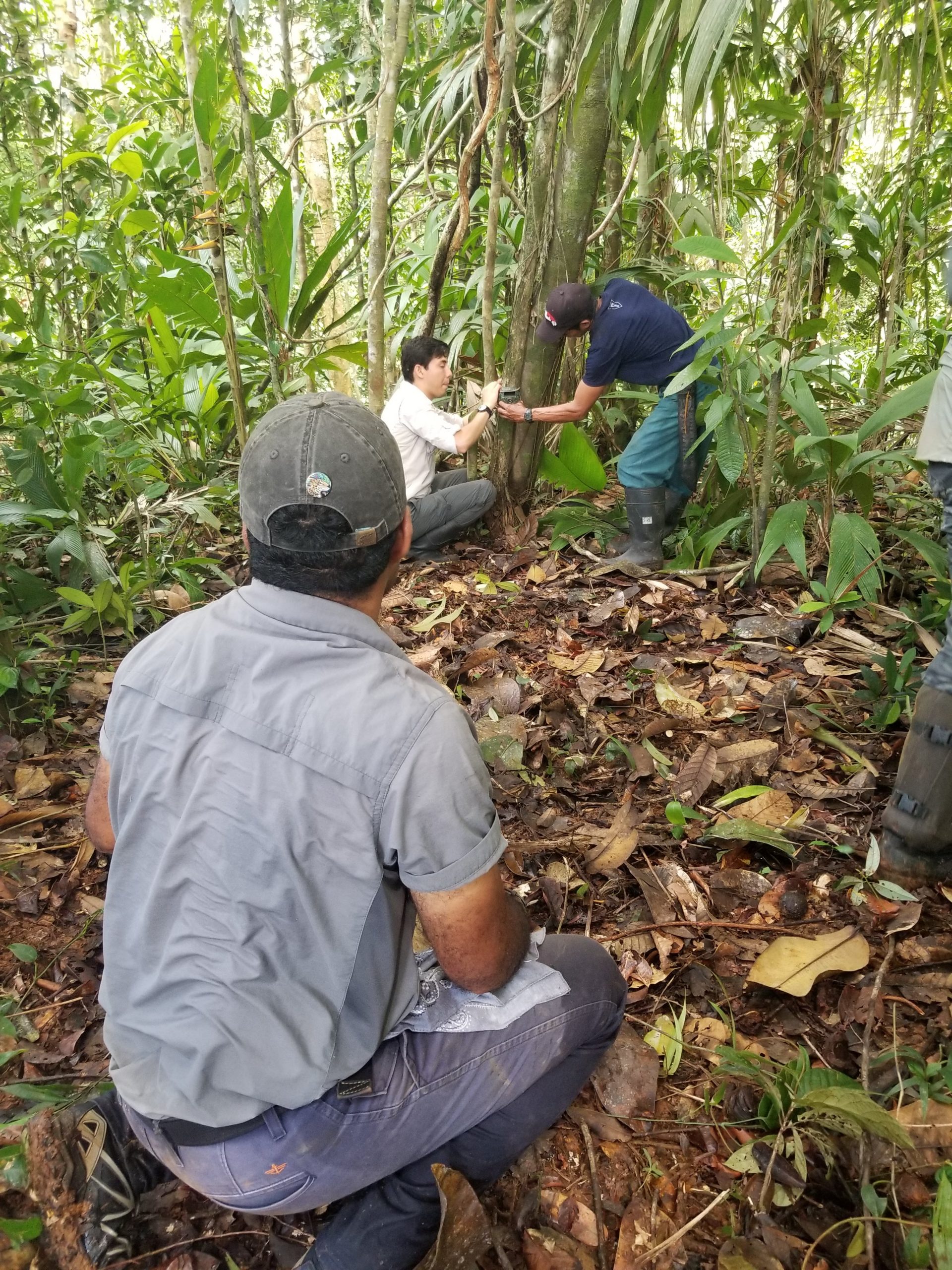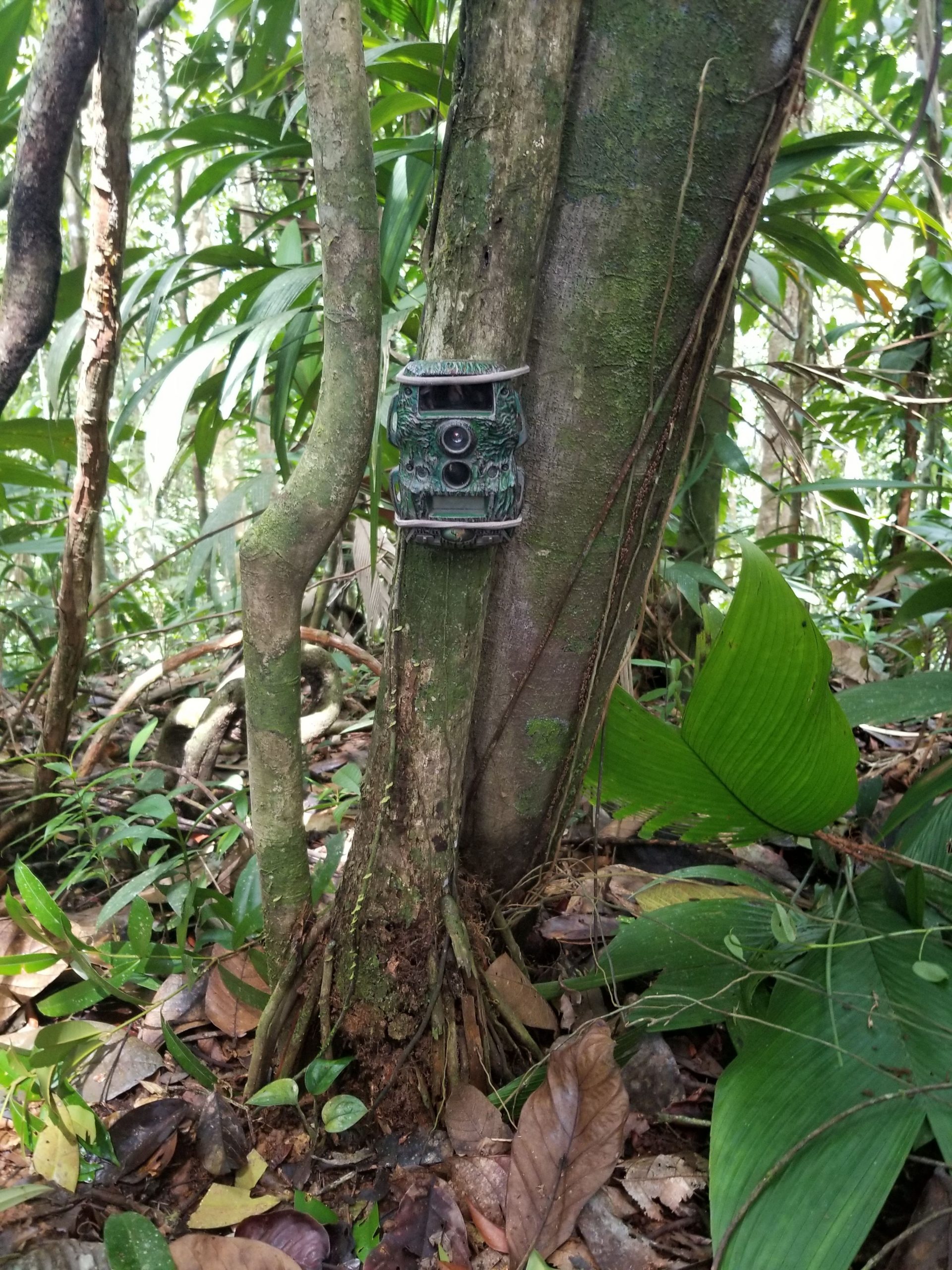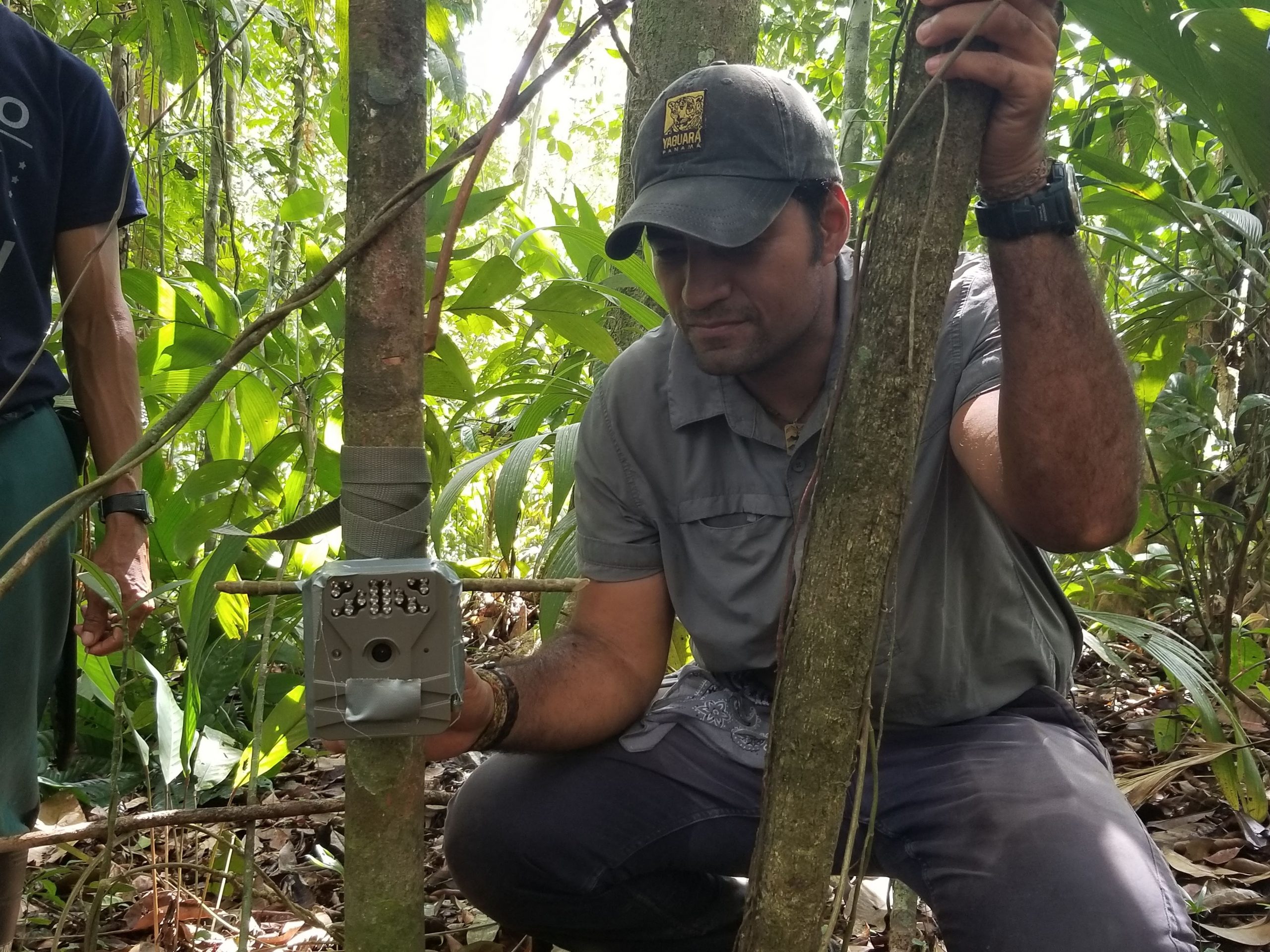 We walked an hour to the next placement area which needed to be at least 500 meters from the previous cameras. We set up 3 & 4 and then walked another couple hundred meters to search for the next spot. The hikes were challenging and often left me falling, covered in mud, and exhausted.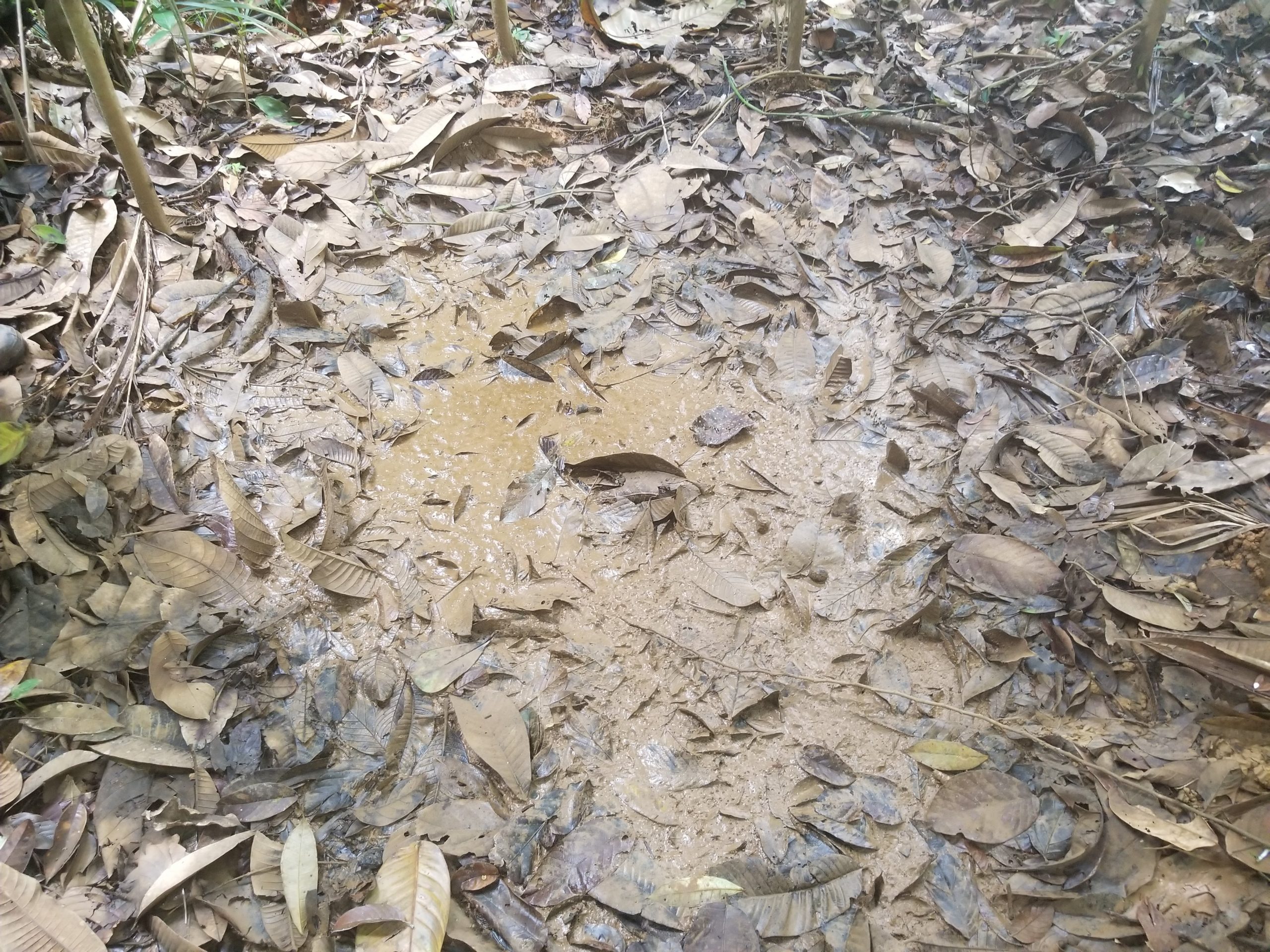 Pictured above is a bath for the local animals to cool off in. Not as fun as Pumba in a natural pool making bubbles, but close enough.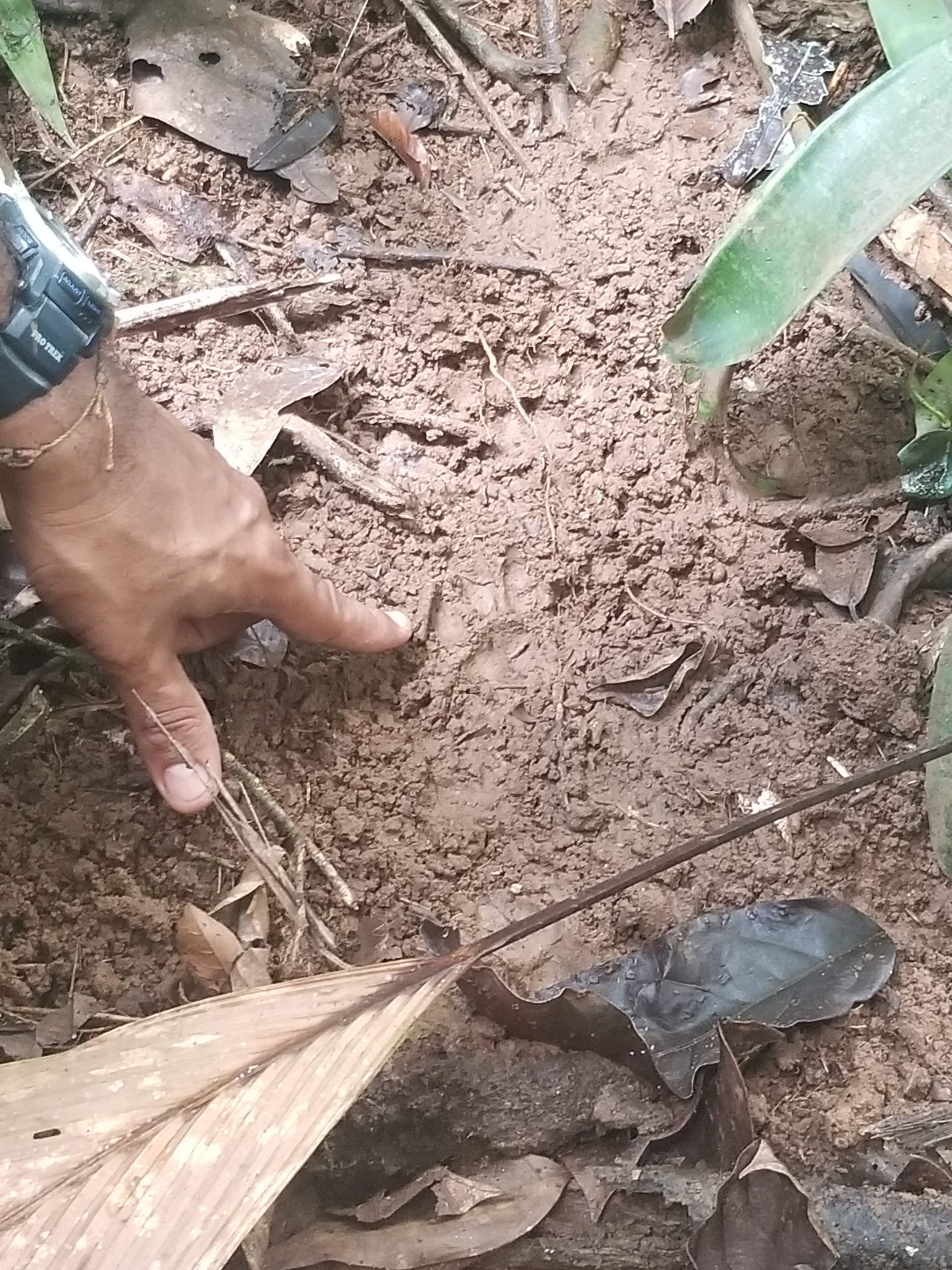 Animal prints! They said that these were Ocelot tracks.
Before we made it back to camp, we went to another lagoon/ waterfall and swam around. We packed up, hiked back another 20 kilometers in the rain, and made it back to the parked car with our headlamps. This experience was magic.
Thank you for learning more with me!
If you care to know more about Ricardo's project, click this link!